Harvia Cylindro Sauna Heater 6.8kW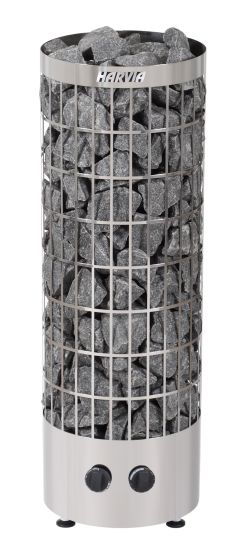 Harvia Cylindro Sauna Heater 6.8kW
Electric heater Harvia Cilindro PC70 6,8 kW Stainless Steel.
The Harvia Cilindro stainless steel pillar heaters are stylish electric heaters ideal for many needs. The size and massive stone quantity of the heater are optimised to provide a smooth, yet powerful sauna bath in saunas of all sizes – from small family saunas to large public saunas. 
The Cilindro heaters combines high quality with an impressive appearance. 
The glossy stainless steel exterior is a great addition to any sauna. 
The Harvia Cilindro heaters are available with a range of control options corresponding to different needs. Manual control is standard supply, and the simplest way to control your heater, based on the manual operation of a thermostat and timer located on the front panel of the heater. 
Includes 4 boxes of sauna stones, 5-10cm [20kg per box]
---
Product brochure:
Pre-Installation Guide:
Electrical Guidelines: